Picture of example this tutorial is based off of.
(Many other similar pictures with the same eye makeup)
A colorful beautiful look~ Makeup from KARA's Goo Hara.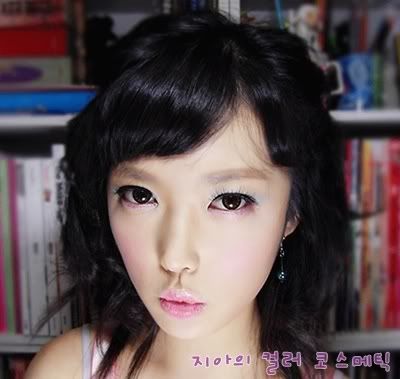 Items used:
Do not need to use exact items.
Benefit blush in thrrrob
Body Shop ? White eyeshadow
Shu Uemura palette
Bobbi Brown Eyeliner in Black Ink
START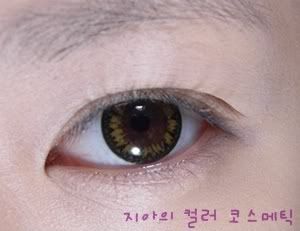 0. Nothing, just a clean slate for your eye.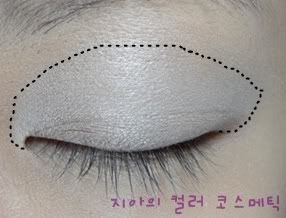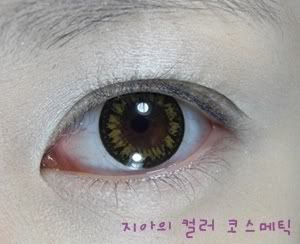 1. To get the light blue shade, mix a bright blue shade (from Shu uemura palette, I assume) with white eyeshadow.
Apply it in the dotted area.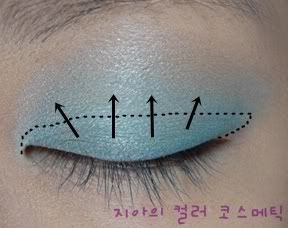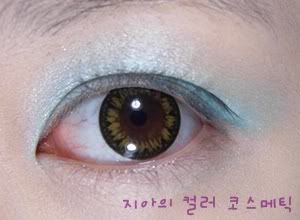 2. Apply a sky blue shade in the area shown by dotted area, and blend upwards shown by arrows.
(Please note not to over apply too much, or it may look a bit clownish. X3
Do everything according to your crease!!)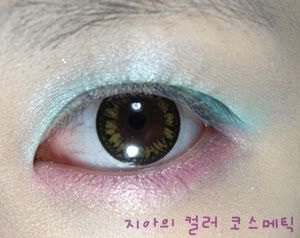 3. Apply some pink eyeshadow on the bottom, perhaps a bit lavendar tone.
Please make sure not to have too much plummy tone, can make you look bloodshot.
Do not overapply over your aegyo sal/eye bag area. Just a little under can go a lot.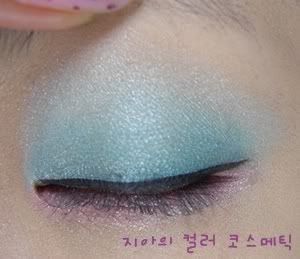 4. This is the step for the gel liner.
Of course you can use any substitute liner, but KARA just has the sharp liquid/gel liner look.
You can use any liner to your liking.
But note: Do not make a line too thick!
This is for upper eyelid only.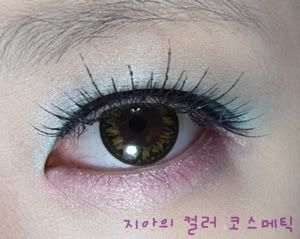 5. False eyelashes!
These are not the most natural of lashes, but it works with the look.
It is perfect.
Please make sure to use a good eye glue, and wait a bit after putting glue on lashes so it will be a bit sticky and easier to put on your lids!
For a more natural look, just go with mascara.
* * That's it for the steps. Just some lipgloss/lipstick and it is picture perfect * *
(Well, perhaps add some blush too o_O;;; but not too pinky or else you might look clowny with color on eyes, lips, and cheeks)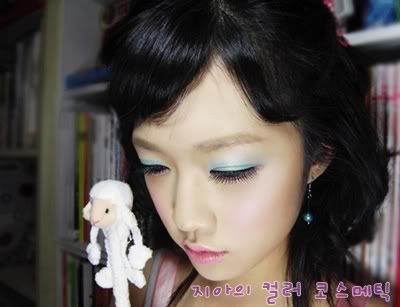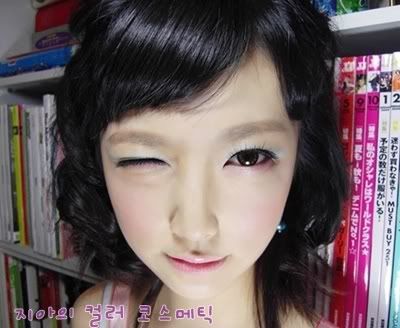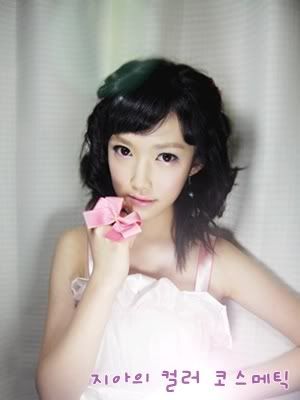 Source:soompi.com